Bulgaria has been a prime destination for IT and business outsourcing companies for many years.
The country has strong traditions in the IT sector dating back to the 1980s. Back then Bulgaria was referred to as the "Silicon Valley" of the Eastern Bloc for its huge role in production and supply of hardware to all the countries from the Council for Mutual Economic Assistance.
Nowadays, tech giants like SAP, CSC, VmWare and IBM have noticed the lucrative opportunities the country's business conditions present and have opened offices in Bulgaria.
Fueled by the outsourcing spike, foreign investments and other internal factors, Bulgaria's IT sector is developing at a rapid pace.
Explaining all the history and different factors which caused the rapid expansion of Bulgaria's IT sector is a huge task that can take a whole book to cover entirely so below we will give you a short overview of the main advantages which made it all possible.
Joining the European Union
When Bulgaria officially joined the EU in 2007 a new era began for the software business and the IT sector as a whole.
During the 10 year period from 2006 to 2016 total income just from the software industry grew a staggering 600% (from 139,4 million in 2006 to 1,20 billion EUR in 2016) accompanied by an increase of nearly 300% in the software labor market (from 4982 jobs in 2006 to 19,755 positions in the software business in 2016).
According to Bulgaria's National Statistical Institute, at the end of 2018 58 406 people were employed in computer programming, consultancy, information services or other related activities. Just 10 years ago that number was only 22 650.
Joining the EU really did a lot in terms of easing operations and communication with Bulgaria, but it's not the only factor that made the development of IT sector possible.
Favorable Tax Policies in Bulgariа
No country would be able to enjoy much interest from foreign companies without an attractive technological and business environment from an income tax standpoint.
Bulgaria makes no exceptions to this rule. The country has a 10% corporate tax, which ranks among the top 3 lowest in Europe. The average corporate tax for countries in the European Union is 18,38%.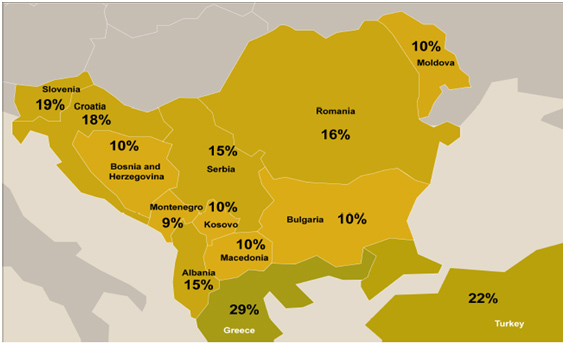 According to the Washington-based think tank Tax Foundation, Bulgaria is also among the top 20 countries in the world with the lowest corporate tax, excluding of course countries with no corporate income tax at all.
Bulgarian governments have been very consistent towards the corporate income tax and there have been no radical reforms in this area which should put ease any concerns possible investors might have in this regard.
Labor Costs
Besides taxes, low labor costs are another huge factor in drawing outside investments to any country.
Bulgaria has been offered the most competitive prices in this regard for a long time. In 2017 the country had the lowest hourly labor cost at 4,9 EUR compared to an average of 26,8 EUR for the EU. The next closest competitor to Bulgaria in this regard was Romania at 6,33 EUR per hour.
Low Electricity Price
From a business expenses standpoint low electricity price is the third important factor which makes Bulgaria such an attractive destination for outsourcing.
At 0,09 EUR per kWh for industrial consumers in 2017, the country's electricity price is well below the average for the EU which is 0,14 kWh.
This combination of cheap labor, a 10% corporate income tax and low electricity prices has been a staple of Bulgaria's business landscape for a long time which has opened the door for lots of foreign investments.
These cost-cutting factors are not the only ones that make the development of the IT sector possible though.
High-level Developers
None of the IT sector's growth would be possible without a huge number of highly-qualified software developers.
Bulgaria's developers have always had an incredibly high-quality standard of work.
In its' study titled Which country would win the programming Olympics? the huge tech company HackerRank ranked Bulgarian developers as the 12th best in the world and the 2nd best in Eastern Europe.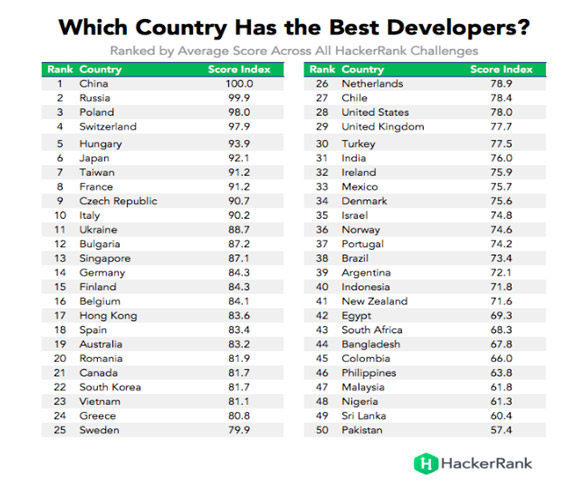 The country's developers were also ranked very high in a couple of important categories like Python (3rd in the world) and Java (2nd in the world).
With such a high-level of employee quality and all the other advantages in terms of cost cutting it's not hard to why IT sector along with outsourcing a whole have and will continue to expand at a highrate.
The Future of The IT Sector
All of the advantages listed above are still intact and the future of Bulgaria's IT sector looks brighter than ever.
The ITC sector as a whole is predicted to increase its share in Bulgaria's GDP and create more job openings. The high standard of living this sector provides draws serious interest with more and more people attending universities, colleges and academies in order to attain a suitable degree.
Another positive trend is that the IT mania is spreading all over Bulgaria through people of all ages. Most importantly kids are starting to learn programming at a very young age. One example of this is the 2018 opening of The Professional High School for Computer Programming and Innovations in one of the country's biggest seaside cities – Burgas.
For a more in-depth look at the future of Information Technology Outsourcing (ITO) and Bulgaria's advantages you can check out our White Paper on the ITO Industry and Bulgaria as an outsourcing destination.