In the following blog series, I'll be sharing my experience and research I've been doing recently on the outsourcing industry as whole, also, zooming-in to Bulgarian's realities, challenges and opportunities. I'll provide my opinion about topics related to the decision-making process for outsourcing, management, various outsourcing models, initiatives and trends in the industry. Before looking ahead, I want to go over some terminology that will be used as I move forward, also I'll share an outsourcing check we designed to help companies which plan or consider outsourcing undertakings.
Outsourcing can be classified as a subcategory or much broader category called "sourcing". Sourcing is an act through which a work has been contracted to internal or external entity, sourcing may take a form of in-sourcing (bringing resources in-house), or outsourcing (delegating work to external provider/vendor). What's interesting to note here is that, many companies, especially those offering IT services (software development, infrastructure management etc.), don't define their services as "outsourcing" or at least don't market them as a such. The question is, are those services falling in the "outsourcing" category? Looking at the most known outsourcing models, the following are worth mentioning: offshore outsourcing, captive offshoring, nearshoring and onshoring.
Outsourcing is an act of contracting external entity/supplier for completing specific amount of work, offshoring, from another hand, is when a company delegates work to an external supplier or subsidiary in another country owned by the company. An interesting form of offshoring is Captive offshoring, it refers to a model when the work is done by a development center in far country owned by the company. The captive offshoring reminds me how I started my career in the IT industry. I was employed by a company practicing the model in Bulgaria. I worked initially as a technical support engineer, then went through a few mid-level management positions in the Support and the R&D departments of the company. Captive outsourcing has a much higher barrier for companies willing to take benefits of low cost labor market and people talent in the outsourced country though. I'll go in more details in another blog post specifically dedicated to the Captive offshoring.
Quite opposite model of Offshoring is so called Nearshoring. It offers some benefits compared to the offshoring to remote locations, e.g. lower travel cost, fewer time zone differences and closer cultural compatibility.  An example of nearshoring is when a company from Europe, e.g. Sweden outsourced business processes or IT functions to Bulgaria or Romania.
In some of the future blog post about the subject I'll be looking at the benefits, for the client in outsourcing/partnership relations, however, first I want to look at some risks associated with the offshore outsourcing for the client.
With regard to offshore outsourcing there some challenges and risks that needs to be considered. Rottman and Lacity (2006) offers a comprehensive list of risks associated with such ventures. These include different kinds of business, legal, political, workforce, social and logistical.
Refer to the table below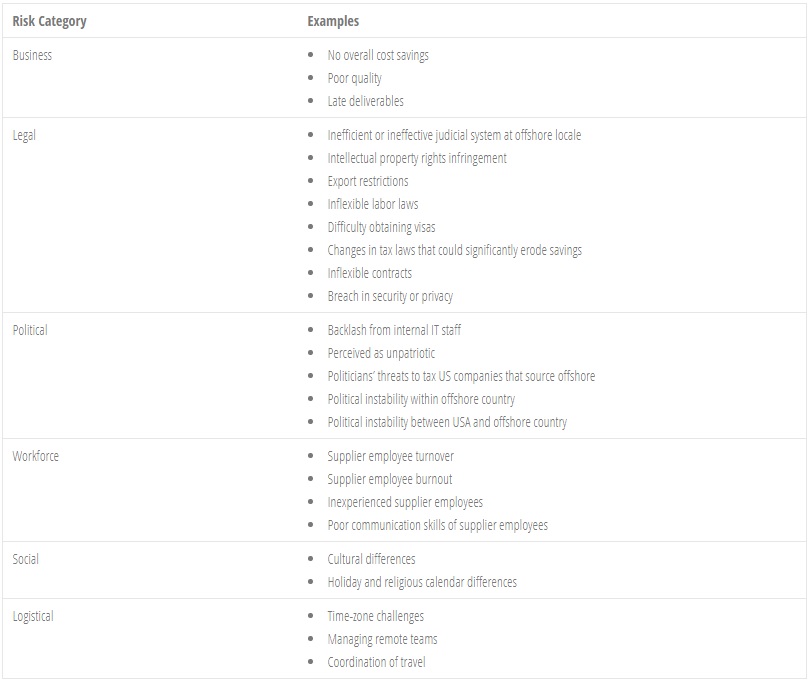 While the above classification of outsourcing risks areas gives a good perspective for companies evaluating outsourcing initiatives, much deeper analysis needs to take place before moving towards decision. We took the liberty to create a risk assessment check for companies of any size that want to consider outsourcing as a way to benefit cost efficiency of labor market and acquire people talent.
The idea is to give an answer, according to our understanding for outsourcing readiness, whether company/client is ready to start evaluating and engaging with suppliers.
In order to complete the outsourcing check, one needs to answer some questions and record a score. We grouped question in the outsourcing check by category that includes the following: Business Case, Evaluation and Agreement. Here's some questions from each category that you would be asked to complete in order to get your final score and receive an advice as to where to direct your efforts in order to lay a ground for successful outsourcing engagement and partnership relationship.
Use Case:
Have you agreed on the internal process of work with your outsourcing partner (OP)?
Do you have partner performance evaluation criteria in place?
Do you plan to create mixed teams (in-house + outsourced) on a project/activity?
Communication:
Do you have communication plan in place? (meetings and reviews schedule, escalation processes)
Is the time difference with your outsourcing partner (OP) less than 8h?
Do crucial stakeholders know who is on the team and who is doing what?
Agreement:
Do you have a well-structured and defined contract in place?
Have you allowed some time for coordination of the SLA?
Do you have mutually acceptable payment terms in place?
Have you defined clearly what level of quality is acceptable?
You can download an excel file that will help you make your check here
---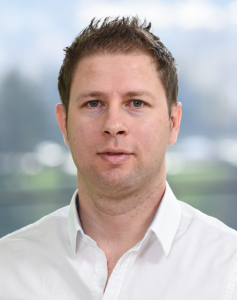 About the author:
Radoslav Minchev ( Rado ) is a senior-level DevOps/ALM expert and Microsoft certified .NET Framework developer. He is the founder and Managing Director of  R&D Solutions. Rado is responsible for the company's operations and vision. In the past he was the senior manager for global engineering services for one of the worldwide leaders in software components development, where has lead the company team of engineering architects, release, software and test automation engineers providing build automation, continuous integration and delivery for 10 product development teams worldwide.